Holiday Wreath Season Is Upon Us
By Samantha Poratti, WOW-VT Intern
Did you know that some seasonal holiday wreaths contain an invasive plant that is so easily spread, it is found from Maine to Louisiana and in the southeastern Great Plains? Oriental or Asiatic bittersweet (Celastrus orbiculatus) is the culprit. It is an invasive plant found in the eastern United States, thought to have been first introduced in the U.S. from East Asia in the 1860s. It's a tough woody fast-growing vine, that can grow up to 60 ft. in length. This vine wraps around woody plants and smothers vegetation. It efficiently reduces forest floor light levels and can take down standing trees. It can tolerate a wide range of conditions, and is found in forests, on forest edges, in man-made habitats, meadows, fields, shrublands, thickets, etc. It has small greenish-white flowers that bloom from May to June, and grows small fruit that transitions from yellow to red in color as it ages.

Asiatic bittersweet in the state of Vermont is considered a "Class B Noxious Weed" according to the Vermont Agency of Agriculture, Food, and Markets quarantine list. A noxious weed is defined as any plant which, during any part of their development, causes injury to public health or the economy. It also has indirect or direct negative impacts on the environment, crops, desired plants, or livestock. Because it is a Class B Noxious Weed, it is illegal to purchase, sell, or transport Asiatic bittersweet in Vermont.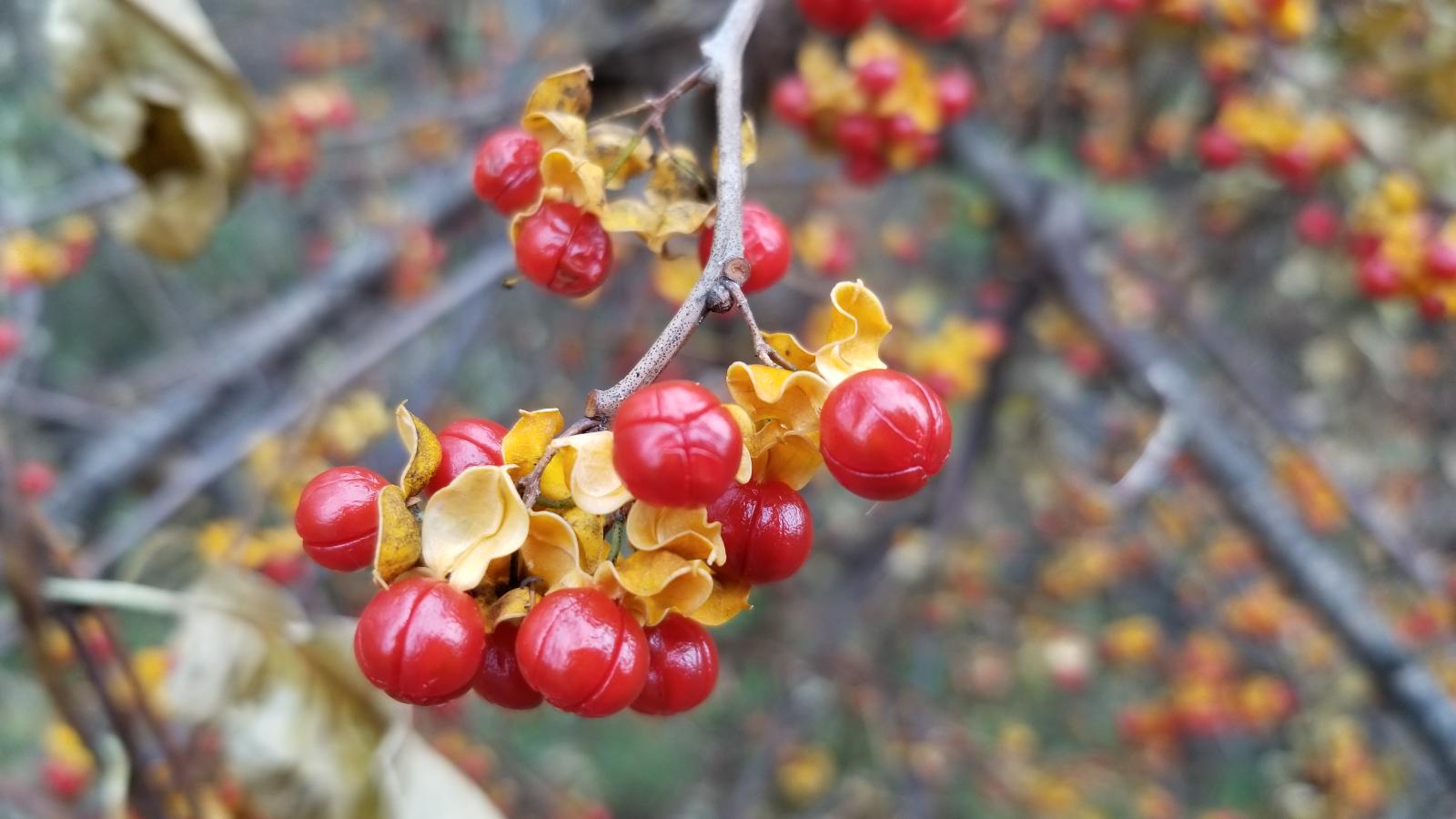 Asiatic bittersweet is used in many crafts and wreaths because of its vibrant red fruits. However, birds and other wildlife adamantly consume this fruit and distribute the seeds, contributing to the spread of this invasive species. If you mistakenly bought or made a wreath with bittersweet this year, don't fret, it's an easy mistake to make! However, just make sure to take caution when disposing of your wreath. These wreaths tend to end up being thrown back into the woods or on compost piles, which aids in the spread of the invasive. To effectively dispose of your Asiatic bittersweet wreath, there are a couple methods to consider. The state of Vermont Department of Environmental Conservation recommends that, if possible, eradicate the species where it is found. This avoids moving the plant around and further spreading seeds and reproductive parts. Desiccate the invasive or place the wreath in a plastic bag. Once the invasive is managed by containment or is killed, if necessary, you can then move the species off-site to a nearby compost facility or transfer station that accepts invasive species material. Contact your local waste district or town to inquire about invasive species drop offs. As a last resort, the wreath can be double bagged where it is found and then put in the trash.

At this point, you may be asking yourself, are there any alternatives to Asiatic bittersweet to look for when buying or making my wreath? The answer is yes, there are alternative plants to consider. Instead of using Asiatic bittersweet, I recommend looking into native plants such as common winterberry (Ilex verticillate). This native species has stunning vegetation and produces beautiful colorful fruiting bodies that would spruce up any holiday wreath.

For more resources on Asiatic bittersweet, check out vtinvasives.org/invasive/bittersweet-asiatic
Sources:
Ecopro. "Asiatic Bittersweet Vine: An Exotic Invasive Plant Fact Sheet." Ecological Landscape Alliance, 13 Feb. 2012, https://www.ecolandscaping.org/02/landscape-challenges/invasive-plants/asiatic-bittersweet-vine-an-exotic-invasive-plant-fact-sheet/. Accessed 16 Nov. 2021.
GoBotany. "Celastrus Orbiculatus (Asian Bittersweet, Asiatic Bittersweet)." GoBotany.com, National Science Foundation, https://gobotany.nativeplanttrust.org/species/celastrus/orbiculatus/.
"Grass, Leaves and Wood." Agency of Natural Resources Department of Environmental Conservation, State of Vermont, https://dec.vermont.gov/content/grass-leaves-and-wood.
Gupta, Angela. "Beware of Oriental Bittersweet in Holiday Decorations." Women Owning Woodlands, U.S. Department of Agriculture and National Woodland Owners Association, 1 Nov. 2013, https://www.womenowningwoodlands.net/content/beware-oriental-bittersweet-holiday-decorations. Accessed 16 Nov. 2021.
Quarantine #3 - Noxious Weeds, State of Vermont, 2012, pp. 1–7. https://agriculture.vermont.gov/sites/agriculture/files/documents/PHARM/Plant_Pest/NoxiousWeedsQuarantine1.pdf. Accessed 16 Nov. 2021.
Vermont Invasives. "Bittersweet, Asiatic."  https://vtinvasives.org/invasive/bittersweet-asiatic.